Justin Urquhart-Stewart: When Risk is Good & Safety is Dangerous:
I can just remember the days when flying was dangerous and sex was safe. Now it seems to be the other way around – flying has never been safer and – well the rest, I will leave to you. There are times then when we should all be questioning the assumed and given logic of the day, because things change and nobody is going to tell us and few seem to realise.
One such issue is the question of risk and safety. Now, I am not suggesting that we throw all safety to the wind but when it comes to looking after your finances and welfare, too much safety could be a bad thing! This is not a moan about the tedious detail of the pedant from "health and safety", but rather the realisation that in the first half of this decade, the "Tiny Temperamental Teens" (3T) we need to rethink our investment strategies for both retaining and making the most of our money.
The 3T decade will in effect see a period of low interest rates, low inflation, low growth and quite likely low returns. So what was applicable in the last couple of decades may not necessarily apply now. Thus with deposit rates giving miserable returns and inflation at or around a similar number, the chance of some tangible and significant growth in the value of hard earned savings and funds is going to be quite measly. In fact in real terms you may even be losing money.
As we often hear in the media, many are desperate to try and find better rates either from special deposits or even from the recent government pensioner bonds. The result though is still a pretty thin gruel and no real reward for those who have saved all their lives to now get such a penurious return. Yet it is the fear of risk that has meant for many that they could be seeing the value in real terms of their finances diminish by seeking apparently 'safer' investments. Whereas with the opportunity of taking some modest but measurable risk, the opposite can occur and that the clients have a chance of making greater returns perversely at a lower risk!
A deposit account in a bank is very likely to make little or no gain and even devalue, whereas in contrast a well balanced and broadly diversified portfolio would be much more likely to make a real and valuable return. Some recent research from the Cass Business School showed that broadly across the ages, savers don't understand or appreciate the damage of inflation. What it showed was that over half of savers would be prepared to save at a lower risk even if it meant it was lower than the rate of inflation and that the "real" value of their savings would decline over time; in effect seemingly happier to be losing their money – albeit slowly! Some risk is right, and too much safety is for suckers.
Oh and just as another example of how risk can change… I found a wonderful and ageing advert featuring the Midland Bank dating back to 1989 which had the headline of the "The investment that can't go down" with a sack of money in their deposit account with X% on it. Well, they were right… the investment didn't go down, but the bank did! But that is another type of risk.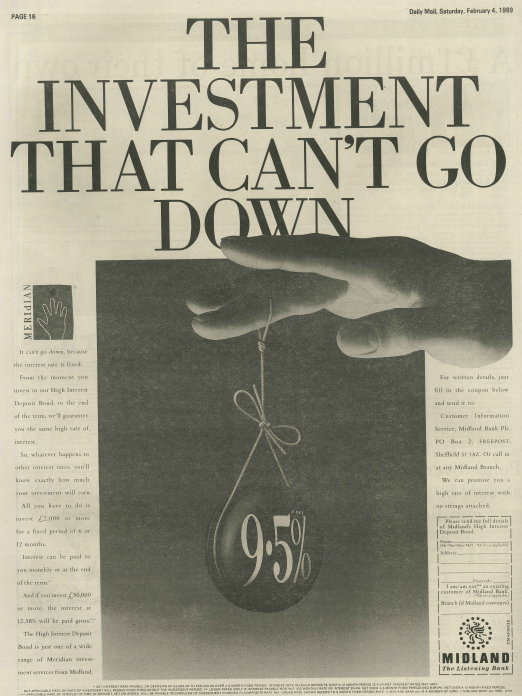 Source: Daily Mail, pg 16 1989.
Don't miss out on the latest legal news, hot jobs, opinion interviews, business insights and more