Kate Spencer, legal counsel, Europe, at Milliken Industrials Limited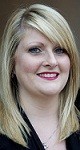 My career in law started much as everyone else's. I studied Law (with German) at university, spent one year of that studying in Erlangen, Germany and then went on to complete my LPC. I have now spent the last 10 years working in the legal profession, albeit the route was not quite as I had imagined. I always thought that I would obtain a training contract and end up working in private practice. This was not to be the case!
I lacked confidence when starting out in my career and so was never quite able to get that elusive training contract. I began working as a legal advisor, seconded on a permanent basis to the firm's largest client. This then opened up a chance to take my first true in house role as a legal specialist supporting the senior lawyer in the engineered products division at Tyco. Working as a paralegal (with no opportunity to complete a training contract at this company) was not what I had envisioned but to me, working in law as a non-qualified professional and gaining experience was more important than giving up completely. My first day at Tyco began by meeting my new boss at 6.30am at Stockport train station to travel to Bristol and Bridgend and I was required to read a large amount of material during the journey to get up to speed before we arrived. There was no time for a long induction; I had to learn on the job. Certainly an unusual start to a new job but what it showed me was that if I was not able to handle a challenging situation as that, this job was not for me! A year later, Tyco's new focus on developing talent meant that having persevered and proved myself by taking on more and more responsibilities, I grasped at the opportunity to train in house. I was Tyco's first trainee. I believe you have to seize the opportunities that come along and be open to different ideas. My route to qualification was not as I had anticipated but I would not change it now for the world given the experiences that I have gained.
Four years later and I am now working as a senior lawyer for Milliken Industrials Limited, part of the Milliken group of companies. I have sole responsibility for all of our operations in Europe, currently situated in the UK, France and Belgium. Each day is different and offers up a different challenge; I don't have a typical day. Last week I was at our head office in Spartanburg, South Carolina, attending our Winter Management Conference. This week I am back in Wigan, predominantly reviewing numerous commercial contracts, providing employment advice, offering guidance on our corporate strategies, managing outside counsel and generally supporting our teams in Europe.
Both Tyco and Milliken are manufacturing companies and so are quite male dominated areas. I remember this was quite a surprise to me when I started working in-house and it can be difficult to find female role models where senior female managers are rare. I've noticed it even more now that I am in a management position. You need to be resilient in this environment and not be afraid to articulate and express your opinions. An additional area that I am involved in is Milliken's European Talent Management Committee. I was asked to join this in my position as the most senior female manager in Europe as I am able to draw on my experiences as a junior lawyer in business and can now act as a role model for other junior and mid-level managers in the company.
I have been lucky enough to be supported by a couple of great mentors (both internal and external), who have helped to push me out of my comfort zone and have supported my career progression. Building relationships with colleagues, internal clients and solicitors in private practice is key to being successful in my opinion. Networking is essential!
One thing I've learned is that you have to be self-aware and have confidence in your strengths but be honest enough to work on your weaknesses; be open to constructive criticism. It doesn't come naturally but being open to feedback helps to improve those areas in need of development. I now conquer my previous lack of confidence by preparing for situations, whether that's delivering training or entering a room full of strangers, that way I overcome the uncertainty of the situation.
Be tenacious and disciplined. You have to put in the hard work and have clear objectives. We all work long hours and there are times when I'm sure we all feel that all we do is work, but you have to remind yourself it will help to achieve your goals. Think about what it is you actually want to achieve and be clear about how you are going to get there. Working hard will always lead to success! I never imagined getting to a position like the one I have now but it's a product of hard work, enjoying what I do and seizing opportunities that were presented to me. There will be many more opportunities to come for me I'm sure!
Don't miss out on the latest legal news, hot jobs, opinion interviews, business insights and more