Lorna Vanderkamp, associate director of Roberts Jackson Solicitors…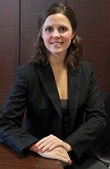 Roberts Jackson has recently celebrated its fourth year helping industrial disease claimants to receive justice through litigation and compensation. Whilst at Roberts Jackson how would you sum up your time there?
Wonderfully rewarding, since I have had the opportunity to develop and flourish as a lawyer at the same time as contributing to the growth of the business. I have won trials, successfully represented and obtained compensation for hundreds of vulnerable clients suffering with work-related illnesses/conditions and was shortlisted at the Manchester Legal Awards for Associate of the Year last year. It has been a very exciting journey so far.
In your opinion what makes a great solicitor/lawyer?
A great lawyer ought to be flexible and adaptable with the capability to wear several hats (often at the same time!) Great negotiation skills and the ability to communicate and understand the client's needs are a must.
What factors in life have given you such drive and ambition?
My parents encouraged a positive attitude and a strong work ethic when I was younger, they told me to "aim high" and I continue to do so, on a daily basis.
What are your aspirations for the future?
I aspire to raise awareness in relation to the specialist field of industrial disease on a national level. I deal with many clients who are suffering with work related illness/conditions who are not aware of the duties and obligations of their employers in the workplace. I want to continue to contribute to the learning and development of the future lawyers within the firm since education and training is key to the delivery of an excellent client service.
If you were marooned on a dessert island, what three items would you take with you?
1. The White Book, to learn CPR backwards!!
2. My box of memories – (tickets stubs, first dates with my fiancé etc)
3. The Lonely Planet guide to Thailand – my favourite beach destination
If you were not a solicitor what alternative profession would you choose?
I would have followed in the footsteps of my mother, as a teacher.
If you could go back in time and visit yourself at the start of your career what advice would you give yourself?
Deal with the most important task first each day and leave the office each night with a clean desk, this will help you to complete tasks more efficiently! Do not underestimate the impact of social, economic and political behaviours on your chosen career; I have learnt through several years of lobbying the Government in relation to the implementation of the Jackson reforms that Government will listen to what you have to say and may even take your opinions on board. You are in a position to help create changes within the law, so keep yourself up to date with current affairs.
What advice would you give to someone else starting their career in law?
Do not be afraid to stand out from your peers and go the extra mile in all that you do. Embrace the new legal structures in place in many modern law firms since the traditional route may not be the only option available to you. Choose an area of law which interests you, one that you feel passionate about because this will drive you to achieve great things for your clients.
http://www.robertsjackson.co.uk/
About Lorna:
With over eight years' experience in the field of litigation Lorna Vanderkamp is a multi-skilled passionate and proactive specialist Industrial Disease Lawyer who was the first lawyer to join Roberts Jackson in 2009; she was promoted to the role of associate director in December 2011.
As head of legal Lorna co-manages Roberts Jackson's fee earner division with Karen Jackson and assists the directors in all other aspects of the business. She offers support and guidance to the firm's fee earners and encourages junior members of the team to grow and develop; she is a specialist in complex asthma and dermatitis cases and has achieved many of the firm's highest settlement figures to date.
Lorna works closely with the firm's directors to discuss marketing strategies and to review changes in the law. Together with Karen Jackson, Lorna has been involved in the drafting of several press articles and has also prepared articles for charitable organisations including the National Eczema Society. She undertakes pro bono work and strives to continuously raise the profile of the firm and the niche field of Industrial Disease via marketing and business development activities.
Lorna has delivered and prepared firm wide internal training and also external training to key business clients, she manages several of the firm's key business accounts. This includes maintaining and preserving the relationship between the firm and the business suppliers through excellent client service. Lorna's skills in key account management have contributed to the firm's growth over the last four years.
Don't miss out on the latest legal news, hot jobs, opinion interviews, business insights and more