Amanda Baxendale - legal and compliance counsel at Hilti...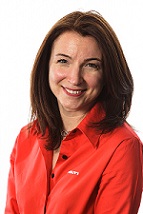 I joined Hilti 18 months ago as legal and compliance counsel. Hilti provides leading-edge technology to the global construction industry. Our products, systems and services offer the construction professional innovative solutions with outstanding added value, and it's a huge change from the insurance industry, where I had worked from the start of my legal career. On my first day, I was given a pair of steel toe capped boots and a hard hat, which made me question what I'd got myself into.
Founded in 1941, the worldwide Hilti Group evolved from a small family company and operates globally with headquarters in the Principality of Liechtenstein. It has over 21,000 employees, in more than 120 countries around the world. Two-thirds of the employees work directly with the customer in sales organisations and in engineering, with a huge number of customer contacts every day.
My role is to act as sole in-house counsel for Northern Europe, covering separate operating companies in GB, Ireland, Sweden, Denmark, Finland and Norway. I am part of the leadership team for the Northern Europe region and the GB operating company, which gives me the opportunity to input directly into commercial business decisions as well as influencing decisions with a legal dimension.
The geography of the region raises some unique challenges. There are eight different legal jurisdictions, five different currencies, three time zones and five languages. I also work closely with the legal team based in the headquarters, which often choose German as the applicable law and use Swiss Francs for all financial calculations.
Given the language and local law barriers for the other countries in the region, I rely heavily on trusted external legal advisers to help me manage the potential legal risk. Within GB last year, I ran a tender exercise for legal support and employment, debt recovery and property work which is all outsourced. I try to do the majority of the commercial work personally, to keep a handle on costs and also keep me close to the business. However, specialist or strategic commercial work is also outsourced. Following the GB tender exercise, I am working with our external lawyers in the other countries to make sure the relationships work effectively and efficiently.
The majority of my work is commercial contracting and a significant element of daily work involves legal education and "myth busting" where business processes are thought to be based on legal requirements, but actually aren't. It's often necessary for me to act as an internal challenge and to ask "what if" questions to drive to the detail of what is being proposed, but it's essential to stay approachable and help solve problems so that I don't become perceived as a business blocker. Working "smart" helps manage the weight of legal work and maintain an appropriate work/life balance.
My own visibility within the different companies helps make sure the legal and compliance agenda stays alive, which involves a fair bit of travelling. I am out of the country for a few days at a time at least once a month, which is a great opportunity to visit different cultures. Of course it's not so glamorous when travelling involves time spent waiting at airports, but I've visited lots of places I would never have thought to visit without working for Hilti.
The role was a new one when I joined Hilti, but I quickly found the legal and compliance agenda to fit well with the corporate culture, which is founded on integrity, courage, teamwork and commitment. The role is extremely broad and I attempt to balance opportunities for business growth with minimizing business risk.
My first task was to carry out a risk assessment, and to start to build a new network of legal contacts in the construction industry.
Pulling together a legal strategy led to a framework for future development of the legal agenda and function across the region. As an incumbent in a new role it was important to get to know the business and my colleagues, and to approach the role with a commercial mindset which was easy for colleagues to understand, so they could see the value in working with a legal colleague. Asking questions and finding some quick wins, with tangible business results, helped build my credibility within the business and demonstrate the link between the legal agenda and commercial objectives.
It's not possible to describe a typical day because they are all so different. One typical factor – however - is regular customer interaction: on any day I can be either on the phone negotiating a project contract, or in a client meeting explaining the benefit of our products. I regularly visit construction sites to develop my understanding of the daily challenges faced by customers and my sales colleagues. I've spent several days in a red transit van and have been underneath the City of London to look at rail installations, and overlooked the roofs of Stockholm from a high building tower. The level of customer interaction is an element of my job which I particularly enjoy, although I can say that before I joined Hilti I'd never worn steel toe capped boots to a client meeting!
www.hilti.com
http://uk.linkedin.com/pub/amanda-baxendale/3/264/735