Doug Crawford – chief executive officer of myhomemove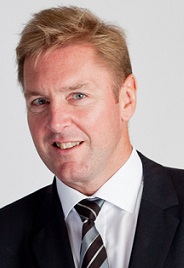 The alarm goes off somewhere between 5.30 and 6am. When I was younger, I was a definite night owl, but today I've learnt the value of getting up early and seizing the day (but that's not to say I don't burn the candle at both ends occasionally!) Once I've found my way downstairs and drunk a cup of tea, I listen to the business headlines and then head to my local gym. There are usually at least three other colleagues from myhomemove working out. As a company, we have a real sense of community at our core; so even if I'm in my worst gym gear, red in the face, having just run 5K on the treadmill, people want to stop and chat about work and life – I love it.
I live less than 15 minutes from the office, so I'm usually arriving at my desk by 8.30am. When I accepted the job at myhomemove I was suddenly aware that I had never actually bought a house in England before. I grew up in Northern Ireland and spent my early career working in Scotland where the conveyancing system is very different and my family home is. So, I set about buying a place in Leicester and used Premier Property Lawyers, our legal firm, to act for me. It was a fantastic experience and showed me how the business works from a client's perspective.
Following a quick catch up with my PA, some hastily consumed breakfast and a check of urgent emails, the day starts properly. As the conveyancing market continues to consolidate, I am increasingly spending time reviewing acquisition opportunities. We are regularly being approached by existing law firms with good-sized conveyancing teams which are looking to manage their exit from the conveyancing market because they recognise that to compete in the future, significant investment would be required in terms of technology, processes and training – all aspects myhomemove offers.
We recently opened a new conveyancing centre in Manchester. It takes just over two hours to drive up there. If the motorway is clear this is a pleasure, especially as I've always had a love of cars and driving. Over the next two years we expect Manchester to become home to an additional 200 conveyancers helping us to handle an 80% increase in our transactional volumes. By 2016, our goal is to complete 100,000 cases a year.
I spend at least a day a week in Manchester, getting to know our new operations teams. By chatting to members of staff I get to understand their current concerns. The culture of our business - and the continued enthusiasm of our staff - is vital to our growth, so this kind of immediate feedback helps supplement the insights we gain through our employee forum and regular staff surveys. Over the last year we have substantially improved our salary & benefits package, career development structure and training support but we're still looking for ways to improve further.
A few weeks ago now, I took part in a charity boxing match in Manchester. It was one of the greatest challenges of my life, because despite visiting the gym most days I really had to push myself to feel physically fit enough to enter the ring. All the other contenders were business leaders from across the North West, and as a relative newcomer to Manchester, it was a great platform to get the myhomemove name known and to help to raise over £80,000. With the adrenaline pumping I entered the ring, and despite it feeling like time had stopped still as the crowd of people stood and stared, the bell rang and we were off. Following three rounds the fight was declared a draw – the right result.
After a lunch grabbed from the M&S van of a salad or a sandwich, my afternoons are typically spent in meetings with my fellow directors or prospective business partners, as we shape out some of the really interesting strategic growth opportunities that are around at the moment.
My evenings are often taken up with business events. As a business, we work hard to build a sense of community with our introducing customers and, because they are as busy as we are, much of this is done outside of normal office hours at awards dinners and conferences. We regularly meet with user groups of introducers to actively get their input on our plans for the business. We also hold regular staff events as a thank you for all their hard work and dedication, such as meals out, bowling nights and quiz nights – I told you I still like a night out!
myhomemove is one of those companies that is a real pleasure to work for. It is technically-innovative, forward-thinking and ambitious to grow and I often feel like a lucky man, being CEO of such a great place.
www.myhomemove.com
@myhomemove
www.linkedin.com/company/myhomemove